What makes the best
senior dog food?
As dogs enter their senior years, food makes such a difference to quality of life.
A great senior dog food will help them manage their weight as their metabolism slows down, support their joints and their immune system.
Our 8 rules for a healthy
senior dog food
PLENTY of lean, high-quality protein from the best possible Australian meat
ENERGY from animal fats, not carbs.
NO preservatives and no added colours or flavours
NO grains, soy, corn, cellulose and low starches
WHOLE ingredients as much as possible
NOTHING grouped, disguised or hidden
PLENTY of healthy oils with a variety of Omega-3 sources
EVERYTHING your old dog needs not just to sustain them, but to help them thrive
Common questions about senior dog food
Do senior dogs have different nutritional requirements to adult dogs and puppies?
There are officially only different nutritional requirements for puppies and adult dogs, not a specific profile for senior dogs. Most dog foods specially designed for seniors are more about weight management and marketing. A great senior dog food can also be great for adults and puppies. This is how we have designed Scratch.
At what age should my dog look for senior dog food?
Whether your dog is a "Senior" or not depends a lot on their size and breed. Giant breeds like Great Danes, Dogue de Bordeaux, Saint Bernards and Bernese Mountain dogs are senior dogs from 5 or 6 years old. Small dogs like Jack Russells and Chihuahua live the longest and are not seniors until they are over 10. Most dogs are seniors by around 8-9 years. This includes breeds like Labradors, Staffys & Border Collies and Beagles.
What sort of food should a dog with Pancreatitis have?
If your dog has had pancreatitis, they will generally be prescribed a low-fat diet. Scratch has 15% fat which usually is a great energy source. Vets often suggest a diet below 8% fat(on a dry basis) to avoid getting pancreatitis again.
Is Scratch OK for senior dogs with kidney disease?
Processing high amounts of protein is thought to put too much stress on diseased kidneys. Most vets will suggest a diet lower in protein than Scratch's 28% if your senior dog has kidney disease. It is important to get specific advice from your dog's vet if they have Kidney problems as they still need all the essential amino acids from protein to stay healthy.
What about dental disease?
After obesity, dental diseases is the most common health problem for the modern senior dog. Mature dogs that have not been getting raw bones and dental treats or toys to chew on – or regular tooth brushing and cleaning are likely to have dental disease. often making their mouth sensitive. They may also have missing or removed teeth that make it harder to chew.
If your senior dog is not enjoying their dry food anymore as it hurts their mouth, you can still use a great dry senior dog food – just add some water to it to soften it.
What are the most important things for the immune system?
Older dogs will benefit from a dog food focused on supporting their immune system which weakens as they age. The immune system is very complex, but the keys to this are good quality sources of animal protein, zinc and vitamin C. Protein is crucial as it provides the essential building blocks for muscles, organs and the immune system.
Does Scratch senior dog food help with joints, arthritis & inflammation?
A healthy senior dog food will also have good levels of omega 3 fatty acids (from cold water fish) to help reduce inflammation. Scratch uses Tasmanian Salmon Oil as the primary source of omega 3 as well as Turmeric to combat inflammation.
Our sustainable kangaroo dog food is supplemented with glucosamine, hydrolised collagen & chondroitin to protect and support damaged joints in senior dogs.
Do green-lipped muscles help senior dogs?
There is evidence that Green-Lipped Muscles help. The issue with including this as an ingredient in senior dog food is that it is very temperature sensitive and easily de-activated. It is best to use freeze-dried Green-Lipped Muscles as a treat or powder instead. This way you also know exactly how much your dog is getting.
How does Scratch help with weight control?
Most commercial dog foods designed for weight management just include more fillers to make you feel like you are still feeding them enough. This can even be by adding sawdust! (appears as "Powdered Cellulose" on labels).
We take a different approach. If your dog needs to reduce weight, we personalise their feeding plan, provide you with a scoop and make sure that we make the best senior dog food with ingredients that the body can get the most out of.
Compare Scratch
to other senior dog foods
Real ingredients.
We take the retail markup and invest it in healthier ingredients. One chomp of this high protein Australian kibble and your dog's old diet will feel like junk food.
Made fresher on subscription.
We use data to know when your dog will be due for more kibble. No more bags of old dog food from 18 months ago. Just the best dog food made fresher for your little mate.
Delivered to you.
We know when you need it and deliver it straight to your door – for free. Now you can spend your Sunday watching Netflix – not hangin' in the pet food aisle. We think it's Australia's best dog food.
Dog Food
Grain free
Shows main ingredient %
Australian made & owned
Includes
joint supplements
Scratch Grain Free Kangaroo 7.5kg
$10.53
84% Australian produce
Supplemented with Glucosamine & Collagen for joint support
Scratch Grain Free Turkey, Lamb & Beef 7.5kg
$9.20
Only whole ingredients
97% Australian produce
Billy & Margot Chicken Superfood 9kg
$13.33
Black Hawk Grain Free Kangaroo 7kg
$12.86
Savour Life Grain Free Kangaroo 10kg
$9.50
Ivory Coat Grain Free Lamb & Roo 13kg
$9.00
Meals for Mutts Grain Free Kangaroo 14kg
$8.64
Royal Canin Medium Adult 15kg
$9.33
Hills Science Diet Canine Adult 7.5kg
$14.27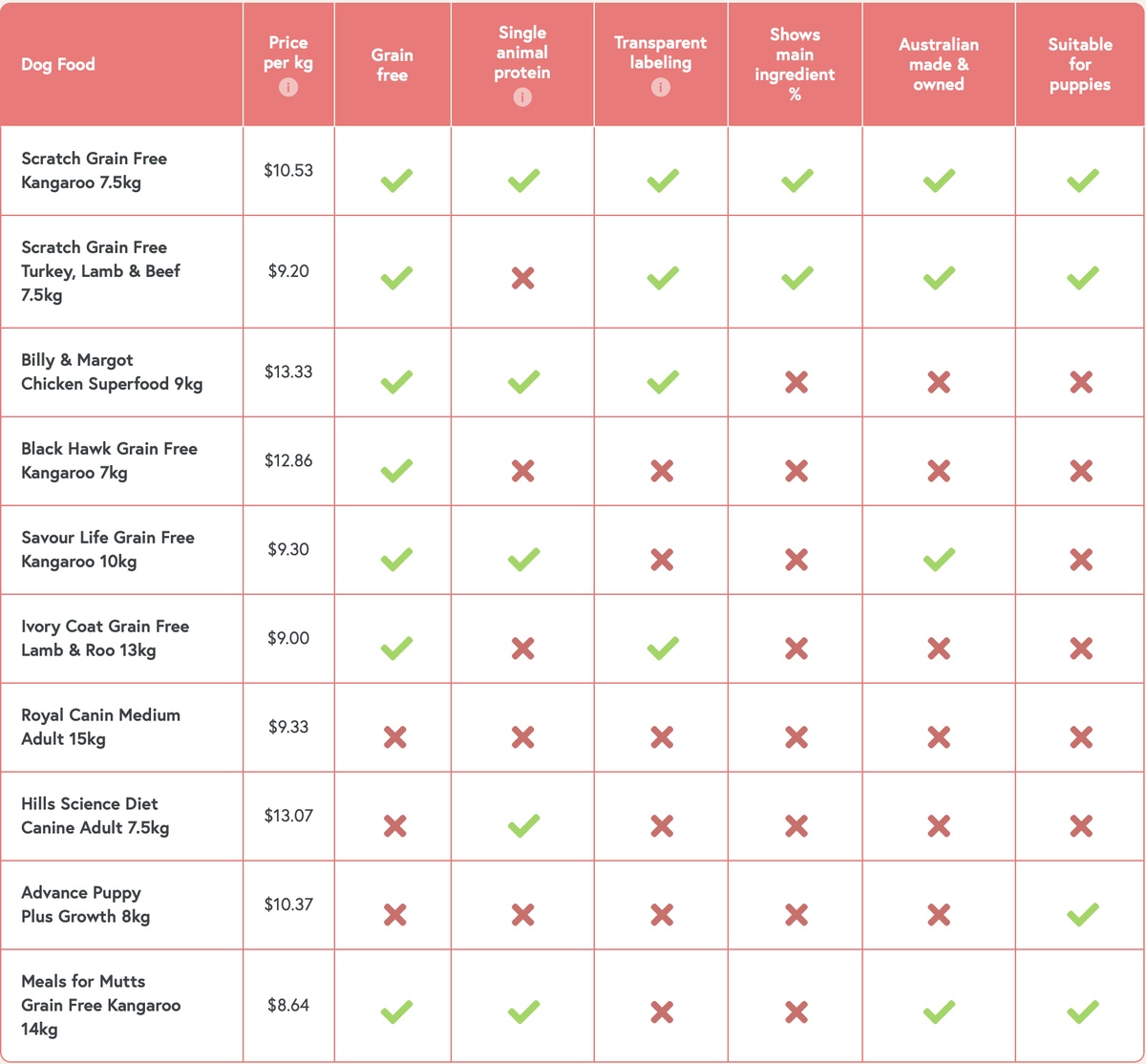 Over a million bowls of Scratch licked clean
In just over a year, thousands of puppies & senior dogs have switched from store-bought kibble to senior dog food online, direct from Scratch.
See what their parents had to say: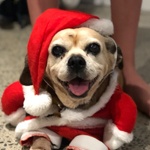 Amazing Product!! My Pugalier is 16 this year. She is very healthy but was starting to look and act a bit slow around the edges, she'd lost a certain amount of spark. No longer greeting us in the mornings up the stairs, sleeping a lot, generally just slowing down. Since feasting on Scratch she has seemed to lose years! She bounds up the stairs, is very active and alert & greets me every morning at 6am (a bit early for my liking) at my bedroom door. I swear she is getting younger rather than older, since feeding her Scratch.
I would also like to commend Scratch on their customer service, it is impeccable and the owners should be very proud of themselves for creating such an amazing company!! Well done! 10/10 from me!!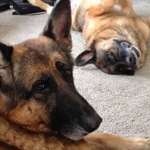 Love Scratch! My 2 fur babies took to it really well – its great on their digestive system, pooh pick up is a breeze and the ingredients are top quality.
The website is user friendly and very easy to change deliveries etc. When my senior baby was diagnosed with an illness, the team were supportive and genuine in their answers and went above and beyond in looking at different options for me.