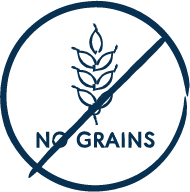 Cast your eye back five years and you'd struggle to find a grain free dog food bag on the shelf. Today, the premium end of the aisle is full of them.
Is grain free dog food a trend, or is there something more to it?
There is a growing number of pets that have allergies or are sensitive tummies to specific ingredients. These are often things like wheat, corn, soy, dairy, chicken and beef.
As pet food has become such a big industry, stores and brands have tried to cut costs and keep dog food affordable as the price of marketing and rent has risen. The food has been compromised as a result, using cheap grains instead of meat or vegetables to fill your dogs stomach.
Just because it fills them up, doesn't mean it's good for them, however. Grains are very hard to digest, so they don't just increase the risk of allergies and health issues, but also require a lot of your woofers energy to break down and process.
What benefits will your dog get from grain free dog food?
Many dog owners report an improvement to their dogs skin, coat, energy levels, and digestion after moving to a grain free food.
Don't be fooled. Not all grain-free recipes are healthy
Pet food marketing laws don't exist in Australia, so it's hard for you to know what's really in your dog food.
Grain Free dog food has become associated with higher protein and higher fat as there are less grain filling up the ingredient list but this is not always the case.
The easy(and cheap) way to to make a grain free dog food is just to swap the grains for other refined carbohydrates like potato starch or tapioca starch.
Why is Scratch the healthiest grain free recipe?
We designed a recipe without these refined carbohydrates, instead using high protein and fibre based whole vegetables such a broad beans and chickpeas.