After 3 years of planning and action-taking, it feels wild to finally say that. Yep. We're a B Corp. The first certified dog food company in Australia. Hell. Only the fifth in the world.
B Corps are the world's leading measure of how consciously a business makes its products, treats its people, chooses its suppliers, governs its actions, respects its community, and helps the environment. Basically, it's about sacrificing profits to make more sustainable products and not being dicks in how we do business.
You've probably shopped from some Aussie B Corps that have been a big inspiration for us – Who Gives a Crap, Koala, Stone & Wood. They've set the bar on what it looks like to use business as a force for good.
I guess we should give a shout out to Nestle, Mars and Real Pet Food Co too. Together, they own over 90% of our industry and pissed us off enough to make us want to do things completely differently.
Scratch is the first B Corp certified dog food in Australia.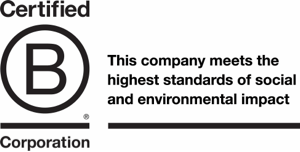 The Scratch book of business is pretty simple. Do whatever the opposite of 'globodogfood' do. The planet and your dog will be better off for it. Not sure why we're telling you – you're already doing more than your bit!
In 2021, you've helped us to donate over $100,000 in cash to climate action and dog welfare through our Paws for the Planet program. Old mate's treats have moved over to recyclable packaging. 98% of orders got there quickly (maybe an AusPost implosion or two aside) while avoiding high-pollution air freight, and we've carbon offset 100% of our deliveries since February 2021.
We've wrapped all of this up in our second annual Impact Report. If you're interested in how we choose to do business, where our hearts and dollars go and what's in store for us next, then take a look. You might even find a very worthy cause to contribute to yourself if you find yourself able in 2022.
Now that we're officially a B-Corp (did we mention that already?), we're not quite ready to start singing kumbaya around the campfire and pronounce ourselves earth children. Most of us still bathe and haven't been completely overcome with B-Corp-smugitis.

We'll continue to give anyone interested quarterly impact updates but for the most part, the things we do to earn our certification will remain behind the scenes and you can look forward to the same silly Scratch emails whenever we feel like we've got something worth saying.
On that note, we've run out of words. Thanks for your support. You all rock and make running this growing little business of ours a pleasure.
Cheers,
Mike, Doug & the Scratch team

Certified good food for your certified good dog