Real ingredients.
We take the retail markup and invest it in healthier ingredients. One chomp of this high protein kibble and your dog's old diet will feel like junk food.
Made fresher on subscription.
We use data to know when your dog will be due for a fresh box. No more bags of old dog food from 18 months ago. Just preservative free food made fresher for your little mate.
Delivered to you.
We know when you need it and deliver it straight to your door – for free. Now you can spend your Sunday watching Netflix – not hangin' in the pet food aisle. We think it's Australia's best dry dog food.

Over a million bowls of Scratch licked clean
In just over a year, thousands of dogs have switched from store-bought food to direct from Scratch.
See what their parents had to say: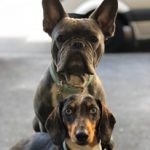 My Frenchie and Mini Dachshund both love Scratch! Transition from their old food was super easy (clean…) and they absolutely love the taste! Mike from Scratch has been super responsive and answered all my questions along the way, he was super helpful.
We've tried about 10 brands to manage my Frenchie's sensitive stomach and nothing has been as good as Scratch! Couldn't recommend Scratch more highly!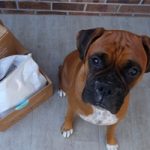 After 2 years of searching for the right fit of food for Loki, non-tasty, endless tests, runny toilet time, and an unhappy itchy dog.
Alas, We came across scratch and we haven't looked back! Number 2's are wonderful, no more itchy pooch and he absolutely adores the taste. A clean bowl every meal.
We love it and won't be looking back,
Thank you Mike and Team for making Scratch the affordable healthy food our Loki Loves <3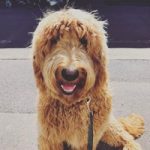 At first I was hesitant to try Scratch as I knew very little about this new brand. I was sick of my dogs turning their nose up at their usual food so thought I would give Scratch a go….what did I have to lose!
My dogs loved it! And not just the first couple of feeds, they continued to love it feed after feed. Another plus is their number twos firmed up and are much easier to clean up!
I also like the convenience of having Scratch delivered and love the fact that the product is Aussie made and developed.
Give Scratch a go, you won't regret it!

Choose your protein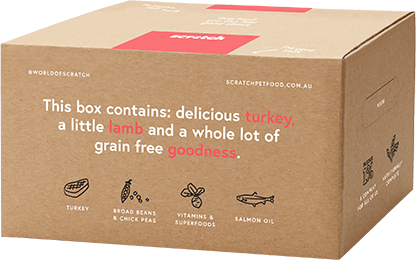 Turkey, Lamb & Beef ($69)
Triple Treat
With the same veggies, oils and extra vitamins as our Kangaroo recipe, this is great for just about any dog.
More info
Single-protein Kangaroo ($79)
2x more Roo than any other kibble*
Our original game-changer and still the best thing for any woofer that can't seem to shake tummy & skin problems on any other food.
More info
Compare our Kibble
Grain-free

Turkey, Lamb & Beef
$69 per box
Grain-free

Kangaroo
$79 per box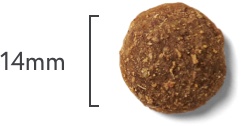 Large breed puppy friendly!
Multiple animal proteins for diverse nutrients
Larger sized pieces to slow down fast eaters
Differences: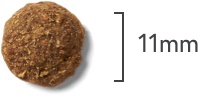 Not for large breed puppies
Single animal protein - amazing for dogs with allergies or on elimination diets
Sustainably-sourced Kangaroo
More Kangaroo than any other dry food
Quality whole ingredients & less processing has helped all sorts of pups with:
Shinier coats
Having the right mix of Omega 3 and 6 helps get that salon shine. We make and ship fresher food so nutrients don't go stale sitting on the shelf for months.
More even energy
Avoid the carb coma after every meal with the perfect mix of protein, healthy fat and fibre to keep blood sugar levels even. They'll always be ready to rumble.
No more runny poos
Fibre from whole vegetable ingredients helps to keep your pooch regular and can help naturally express anal glands. Expect well formed and easy to pick up poops that don't stink from crap ingredients.
Losing that 'dog smell'
If your pup is eating something that does not agree with them they can have bad breath, stinky ears and farts that clear the room. With immune and digestion working, it's all roses!
Reducing inflammation
Avoid common allergens like grains or chicken and improve their gut health to reduce inflammation and free up those joints. You'll be amazed at what it does to their energy and happiness.
Easing up the old joints
The best medicine is getting a healthy weight as soon as possible and our feeding guides help with that. Next is making sure inflammation from any bad food ingredients is eliminated. Finally, Salmon Oil is packed full of Omega 3.