A complete approach to
weight control
Most weight control dog foods just try to make your dog feel full.
We've formulated Scratch with personalised feeding plans full of high protein & inflammation-friendly ingredients to get your dog moving.
Our 8 rules for a healthy
dog food
PLENTY of lean, high-quality protein from the best possible Australian meat
ENERGY from animal fats, not carbs.
NO preservatives and no added colours or flavours
NO grains, soy, corn, cellulose and low starches
WHOLE ingredients as much as possible
NOTHING grouped, disguised or hidden
PLENTY of healthy oils with a variety of Omega-3 sources
EVERYTHING your old dog needs not just to sustain them, but to help them thrive
Compare Scratch
to other senior dog foods
Real ingredients.
We take the retail markup and invest it in healthier ingredients. One chomp of this high protein Australian kibble and your dog's old diet will feel like junk food.
Made fresher on subscription.
We use data to know when your dog will be due for more kibble. No more bags of old dog food from 18 months ago. Just the best dog food made fresher for your little mate.
Delivered to you.
We know when you need it and deliver it straight to your door – for free. Now you can spend your Sunday watching Netflix – not hangin' in the pet food aisle. We think it's Australia's best dog food.
Dog Food
Grain free
Shows main ingredient %
Australian made & owned
Includes
joint supplements
Scratch Grain Free Kangaroo 7.5kg
$10.53
84% Australian produce
Supplemented with Glucosamine & Collagen for joint support
Scratch Grain Free Turkey, Lamb & Beef 7.5kg
$9.20
Only whole ingredients
97% Australian produce
Billy & Margot Chicken Superfood 9kg
$13.33
Black Hawk Grain Free Kangaroo 7kg
$12.86
Savour Life Grain Free Kangaroo 10kg
$9.50
Ivory Coat Grain Free Lamb & Roo 13kg
$9.00
Meals for Mutts Grain Free Kangaroo 14kg
$8.64
Royal Canin Medium Adult 15kg
$9.33
Hills Science Diet Canine Adult 7.5kg
$14.27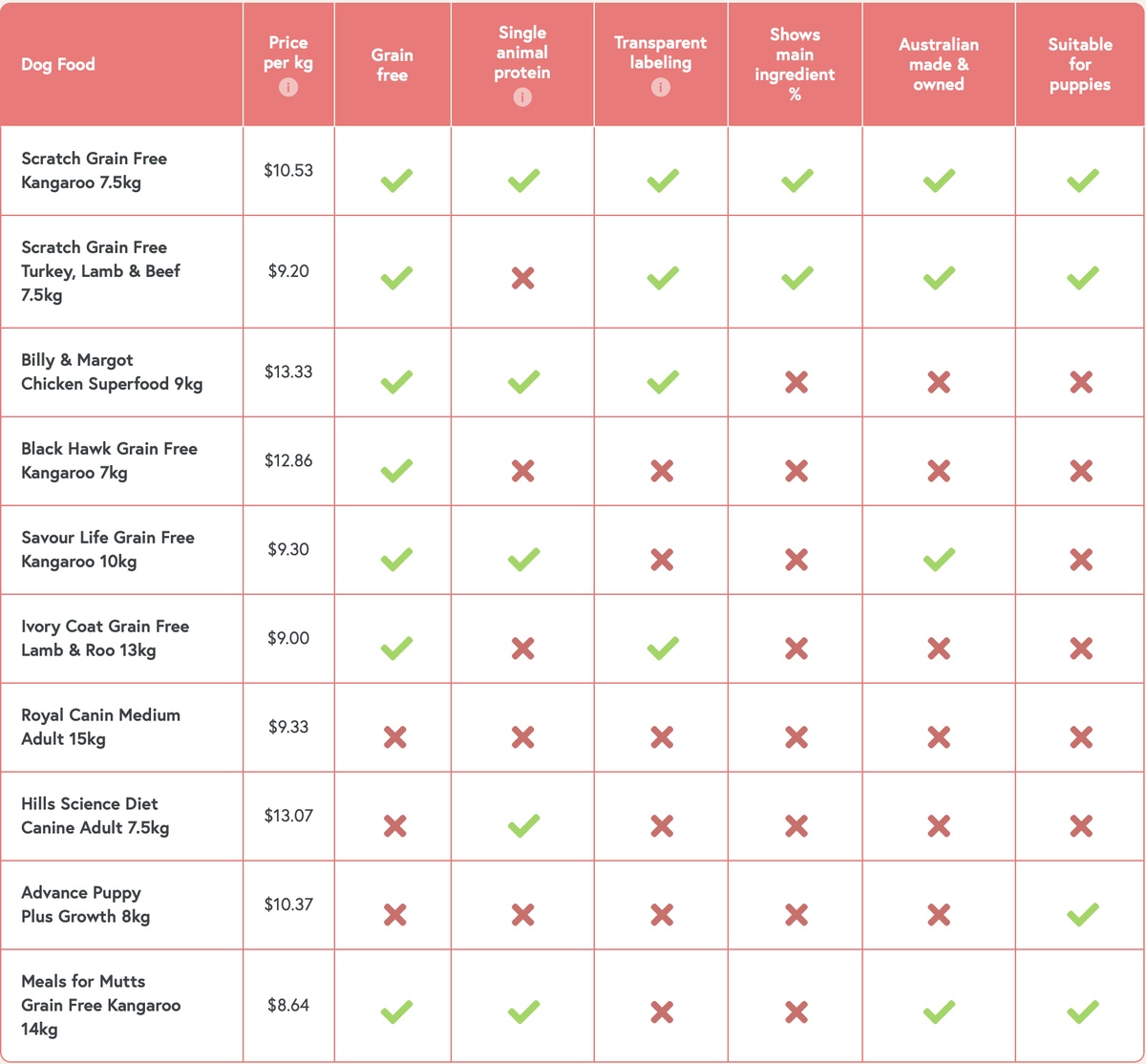 Over a million bowls of Scratch licked clean
In just over a year, thousands of puppies & senior dogs have switched from store-bought kibble to dog food online, direct from Scratch.
See what these dog parents had to say: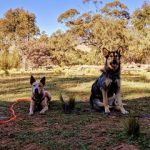 Best dog food we've ever tried
Our two dogs were fed raw food for years but I was spending so much time prepping their meals to make sure they had all the nutrients they needed – there had to be an easier way!
We went on a limb and tried Scratch after reading all of the positive reviews and it's the only food that the dogs did better on than raw! I now know that they're getting all of the right nutrition with out any fillers and they're doing amazing. Their coats are shiny, they're healthy and their **** is so easy to clean up.
The scoop and feeding guide is perfect for maintaining a healthy weight and the food is so much easier to travel with.
The customer service is also the best around and I can say with certainty that we're lifelong customers.
If you're sitting on the fence, give it a go, it's honestly the best.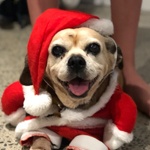 Amazing Product!! My Pugalier is 16 this year. She is very healthy but was starting to look and act a bit slow around the edges, she'd lost a certain amount of spark. No longer greeting us in the mornings up the stairs, sleeping a lot, generally just slowing down. Since feasting on Scratch she has seemed to lose years! She bounds up the stairs, is very active and alert & greets me every morning at 6am (a bit early for my liking) at my bedroom door. I swear she is getting younger rather than older, since feeding her Scratch.
I would also like to commend Scratch on their customer service, it is impeccable and the owners should be very proud of themselves for creating such an amazing company!! Well done! 10/10 from me!!