Premium

Grain-free

Turkey, Lamb & Beef

Dog Kibble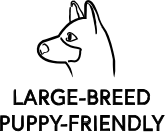 Premium three protein dog kibble that makes store-bought food feel like junk.
Our 100% Australian hormone-free turkey and grass-fed lamb is topped off with a little beef, whole veggies, healthy oils and extra vitamins.
At $10 less per box than our roo recipe, it's just right for large breed pups who can chow down more than you could imagine and nutritionally complete for all sizes and life stages.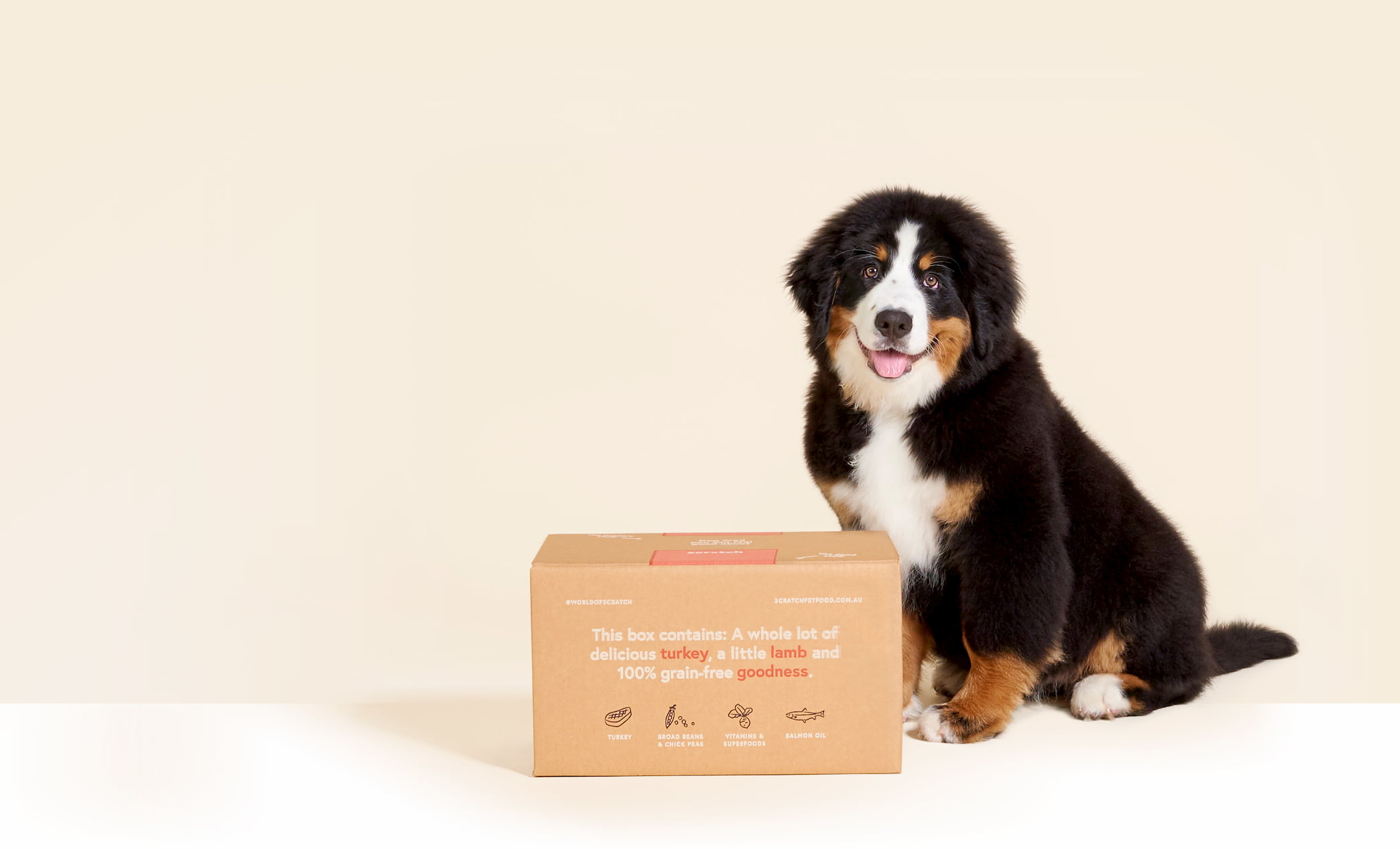 The Food
Which recipe is better for my dog?
One is not better than the other, they are just different. It all comes down to what your dog needs and prefers.
If your dog has any known allergies to common proteins, then Kangaroo is the right place to start.
If your pup is going to grow up to be larger than 32kg, then they should get the Turkey, Lamb & Beef recipe while they are growing.
For all other dogs, it really comes down to taste .
How much does a box of the the Turkey, Lamb & Beef recipe cost?
It costs $69 for a 7.5kg box. But you can also get $10 off when you order two boxes at the same time, just like with our roo recipe.
Is the Turkey, Lamb & Beef recipe suitable for puppies?
Yes, this recipe is suitable for every breed of puppy, including large breed puppies.
Is the Turkey, Lamb & Beef recipe suitable for senior dogs?
Yes, this recipe is suitable for every breed of senior dog. If your older dog has any specific health concerns, just jump on live chat to check if it's suitable for their needs.
Is the Turkey, Lamb & Beef recipe suitable for all breeds?
Absolutely. Any dog, regardless of age, breed, or activity level, can enjoy this recipe.
Where do you source your meat from for this Turkey, Lamb & Beef recipe?
We source the turkey from Inghams, with the lamb and beef also being 100% Australian and free of added hormones.
We have also started work on sourcing free range and RSPCA approved turkey. As we grow, we're working on bringing more ethical production to the pet food industry improving the supply chain for everyone
How big is each piece of kibble?
Both kibble recipes are approximately 14mm in diameter, so on the medium size.
Can I order smaller Turkey, Lamb & Beef kibble or larger Kangaroo kibble?
Why have you used a 3-meat recipe?
Variety is the spice of life. We worked with our nutritionist to make the best food for large breed puppies – and everyone else too. For dogs that aren't super sensitive, having different sources of proteins makes sure there are a large range of nutrients and flavours to keep them healthy and interested.
If your Kangaroo recipe is so great, why a second option?
This 3-meat recipe initially came about after a shortage of kangaroo. This shortage meant that to get good quality kangaroo meat was going to cost more, which would in turn cost more to our Scratch customers. For some people – especially those with large dogs – the increase would mean they'd have to look elsewhere. So we got our heads together and asked: if it's not kangaroo, what could be another great recipe?
The result was Turkey, Lamb & Beef: three proteins that are great for large breed pups without hitting the purse strings too much. It's also good for pooches who don't have too many intolerances or aren't sensitive to particular meats.
My dog is allergic to chicken, would it also be allergic to turkey?
If your dog has a diagnosed allergy to chicken, then it is best to go with the kangaroo recipe instead. The turkey is processed on the same production line as chicken, so there is a small chance that some will make it into the finished product. Better be safe.
Is it better to have 28% or 30% protein?
Both are actually very high compared to most food on the market, especially for ones that don't add protein concentrate from peas. We consider that 28%-32% is a sweet spot that provides all the protein your dog needs to thrive, without putting too much pressure on their digestive system and organs.
Is it better for my dog to have a single protein diet or a multiple protein diet?
Single protein food is the way to go if your dog has not been doing well on other foods out there. While it may have been the protein or a grain that your dog was allergic to, our Single Protein Kangaroo recipe is your best bet to quickly find a food that your dog will like. It's also the right choice if they just love roo!
Will the Turkey, Lamb & Beef kibble be too big for my small dog?
The best thing to do is to request a sample to try. The pieces in our Turkey, Lamb & Beef kibble are bigger in diameter, but are still quite thin. Bigger kibble can slow down fast eaters, as well as improving dental health. Best to check first before you dive into a box.
Do I give my dog the same amount of Turkey, Lamb & Beef as I did with the Kangaroo?
You will need to follow the new feeding instructions that we emailed to you or you will find on our account page. They have slightly different levels of energy density.
Will the new recipe improve my dog's dental health?
Kibble size can have an impact on dental health. Larger kibble makes dogs chew more, rather than just swallow, so it can help keep teeth cleaner. You probably also should give your dog natural dental treats or raw bones to chew on too.
My dog has allergies, but I don't know what from. Which food should I try?
Start with the Kangaroo Single Protein. If that doesn't help, then it is probably time to do a formal allergy testing or follow a strict elimination diet to identify what's causing the allergy
How it Works
Can I get two boxes at a time: so one Kangaroo and one Turkey, Lamb & Beef?
Sure can – just ask us on live chat or by responding to any of our emails.
Is it bad for my dog's digestion if I alternate one box at a time? Do I need to follow the transition guide each time I do this?
Most dogs will be fine switching between the two foods. But some will need to transition. If this is something you want to try, it's best to test it out with your dog to see what works best for them
How long does a box of Scratch last?
Find out for your dog. We'll ask for each dogs weight, age and activity level and a few other little things.
That helps us estimate their calorie needs, how much Scratch to feed them and how long a box would last. If you have multiple dogs, you'll get a feeding guide unique to each of them, but they can eat the same box of food.
We'll base the frequency of a fresh box arriving based off that feeding plan, but you have full control to pause, cancel, speed up or slow down your subscription as needed.
What if my dog doesn't like it?
Just like us hoomans, some dogs don't like change.
It's also important to remember that sometimes the old food that they may be used to may have had lots of salt or other additives that made it taste great, even if it was not healthy. Be persistent and try not to be trained by your fur baby, but sometimes they might just not be into it.
If you've transitioned to Scratch and you're still unsure, we do offer a 100% money-back guarantee on your first order, no questions asked.
What if I run out or have too much?
We've made it super simple to pause, slow down or speed up your subscription with a click of a button so you're only getting food whenever you need it.
We also remind you 7 days ahead of sending more fresh food for your dogs.
How come your calculation is telling me to feed them different amounts to what I currently feed them?
Different ingredients produce different amounts of energy and some food is more dense than others, so one cup of two different dog foods can also have a big difference in energy availability.
Our feeding suggestions are usually pretty spot on based on whether your dog is in a healthy weight range, overweight, etc., but you can monitor your dogs weight and use common sense to feed more or less if your dogs weight changes unexpectedly.
How does it work with two or more dogs?
We calculate how much Scratch each dog should be fed per day based on each individual breed, age, weight and activity level.
You can feed them these separate amounts out of the same box, or we can send two boxes at once.
Delivery & Payment
Will you warn me when my card is to be charged?
Sure will. We will let you know 7 days in advance of when your next fresh box is due to ship and when it will be charged.
Each email contains a quick link to choose a new order date that you'd prefer or a button for us to send it ASAP if you're running low.
What if I'm not home to accept the delivery?
We currently use Australia Post, with no signature required. Your driver will leave the box in the safest place possible and leave a card if they think there's nowhere out of site.
We don't want you to have to try to get to your local post office during business hours, and then have to lug home a heavy box of food, so let us know if you'd prefer us to leave a note with orders if you have a preferred place for packages.
Is there a bag inside, or does that box leak?
There is a resealable bag inside the box. This is important to keep the food fresh, and store all the great smells inside for feeding time!
What areas do you ship too?
We ship to most places in Victoria, New South Wales, Queensland, Tasmania and South Australia.
Shipping is free for all Melbourne, Sydney & Brisbane customers and subsidized down to a small fee for everyone else. Head to checkout and enter your address to see exactly how much it is to get to your door.
One day (hopefully in 2019) we'll offer free shipping Australia-wide, but shipping dog food is expensive, so we've subsidized the cost as best we can for now. Watch this space.
Everything Else
Is the packaging recyclable?
We'd love to avoid plastic all together, but if moisture was to get into the box it could create mould and be a horrible health risk for your dog. We're looking at how we can invest in creating a non-plastic bag, but for now, all of our packaging is recyclable.
To get the best value out of recycling the bag, we suggest you put them in the redcycle.net.au bins available at most supermarkets and include instructions in every order email.
Can I buy Scratch in a pet store?
We have chosen not to sell in pet stores. We can get you a better food for the same price, speak to you about the needs of your dog and send fresher food based on your next order dates.
Do you do samples?
Sure do. Grab a sample here.
We are confident that your dog will love our kibble and that you'll see the benefits over time. You can also cancel at any time without restriction, and we offer a money-back guarantee on your first box if you're unsure after transitioning.
Are you members of the Pet Food Industry Association of Australia (PFIAA)?
30 years ago, most dogs lived in the backyard rather than on the bed. We now fully accept them into our families as little fur babies.
While pet food has improved, we don't think that regulation has kept up. In fact, it is still only a voluntary standard that exists, and that was written by the pet food industry itself.
While our manufacturing partners are PFIAA members and audited to the voluntary standard, we have currently chosen not to join. We especially believe that the standard does not demand the transparency that consumers expect and deserve. The flexibility that it allows marketers to deceive and promote is more appropriate for business generations ago, not now.
What's Included?
Fully Recyclable Re-sealable Bag
Scooper with your first order
Unique Transition & Feeding Guide (via email)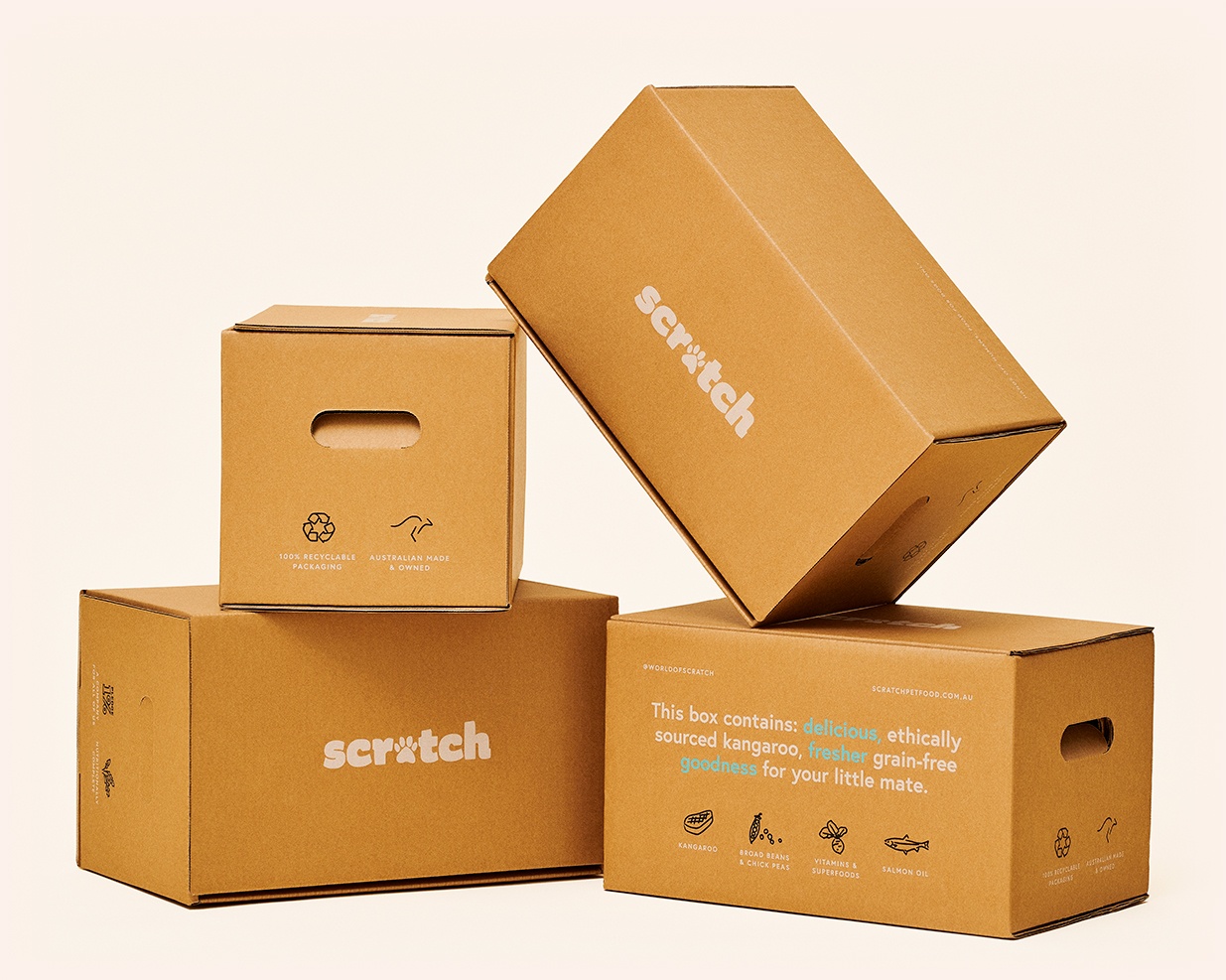 Feeding & Transition Guide
Our mates are used to the same meal, day in day out.
A sudden change can stress out their digestive system and get you diving for the poo bag.
Follow our transition guide to get them on to Scratch smoothly.
Days 1 & 2
75% Original
25% Scratch
Days 3 & 4
50% Original
50% Scratch
Days 5 & 6
25% Original
75% Scratch
This is dog food with a difference.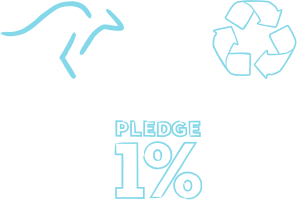 Australian through and through.
Sourced, made, and owned right here in Australia. We mix this dog kibble recipe in New South Wales using 97% locally-sourced ingredients. That 3%? That's coconut oil & vitamins we get from o/s to give him a boost that products grown in Australia can't.
Nutritionally Complete.
We fine-tuned our recipe with an animal nutritionist to make sure every ingredient was spot on and mighty delicious.
Made fresh on subscription.
We use data to know what your dog needs and when they need it. The subscription model means no more late night dashes to the supermarket. Just fresh dog food delivered to your door without any artificial preservatives.