Compare our Kibble
Grain-free

Turkey, Lamb & Beef
$69 per box
Grain-free

Kangaroo
$79 per box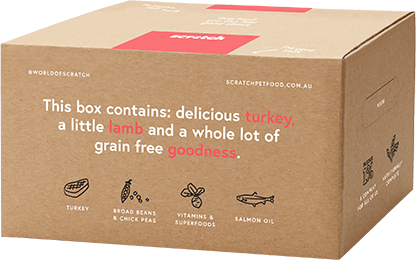 Both Recipes are:
Packed full of whole, Australian vegetables
Protein rich with local, sustainably-sourced meat
Cooked with four healthy oils for healthy skin & coat
Nutritionally (and emotionally) complete
Naturally high in fibre to fix gut problems
Suitable for all life stages, from puppies through to silver foxes
Are great for allergies & intolerances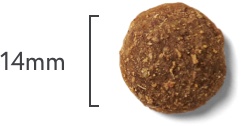 Large breed puppy friendly!
Multiple animal proteins for diverse nutrients
Differences: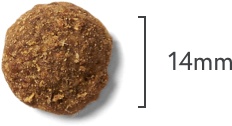 Not for large breed puppies
Single animal protein - amazing for dogs with allergies or on elimination diets
Sustainably-sourced Kangaroo
Added supplements for joint health (great for older dogs)
How does dry dog food direct from Scratch work?
We ask.
Like a good butt sniff, we get the lowdown on your dog. We then calculate a feeding program around how many calories they need to be their healthiest - whether you're after puppy food or senior dog food.
We make.
Using this data, we work out when they'll need a fresh box of the healthiest dry dog food. No artificial preservatives, just fresher, grain-free goodness on subscription that you can control.
We send.
Better tell your chiro you won't be back. We send Scratch direct to your door for free and timed to your dogs needs. Going on hols? You can pause it. Nearly out? You can speed it up. Pup not into it? We'll give you your money back.