Premium

Grain-free Kangaroo

Dry Dog Food



Our original single protein dog food that's made for dogs who can't stomach what big pet food puts out there.
A high-protein + grain free recipe made from sustainably-sourced kangaroo for healthier skin, a shinier coat, a stronger immune system, and all the energy to chase down magpies. Free from artificial preservatives, dodgy meats, and cheap ingredients.
The perfect mix for dogs with allergies, tummy troubles, or are fed up with average tasting food.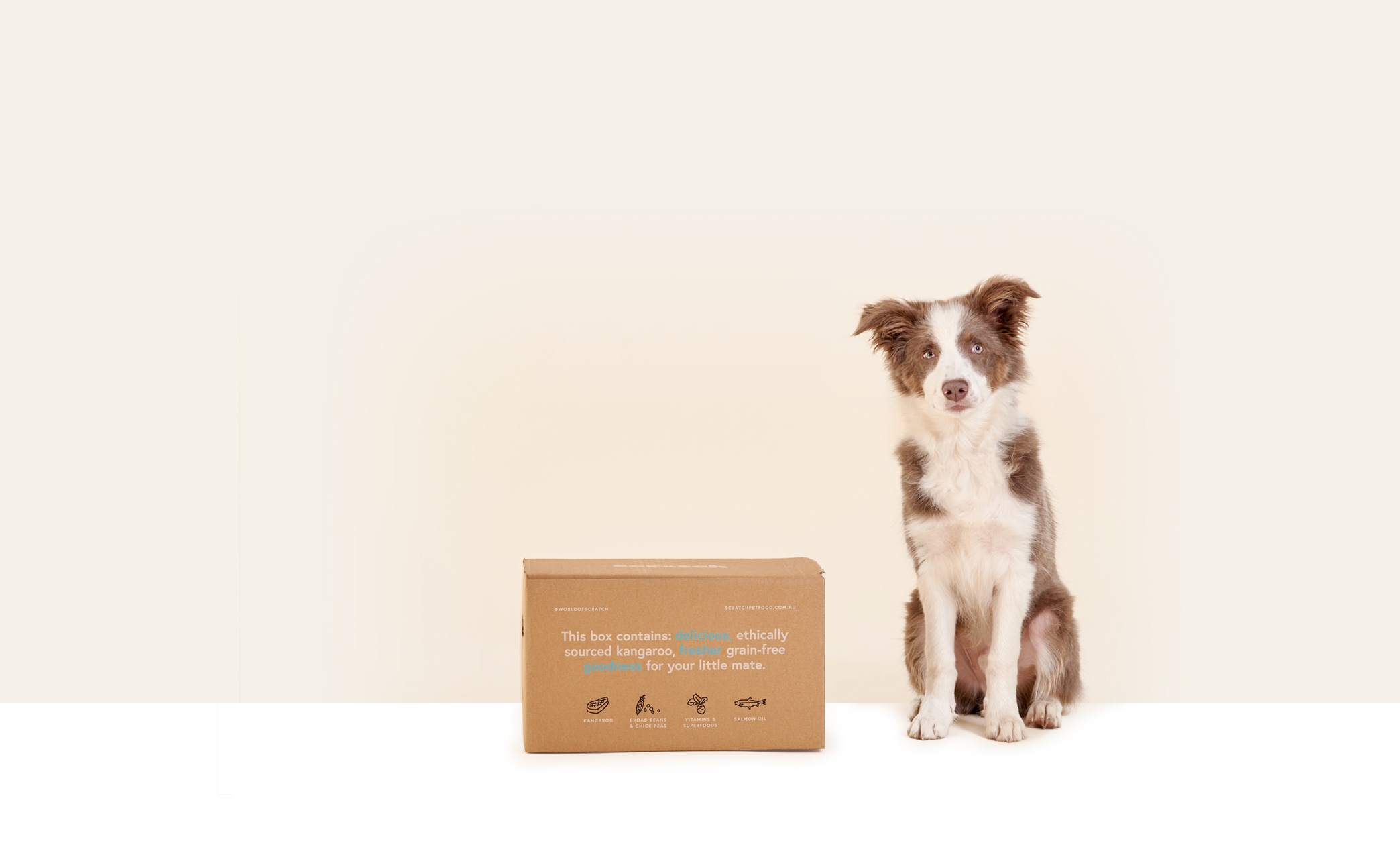 The Food
Is the Scratch kangaroo recipe OK for puppies?
Yes, our kangaroo recipe is great for all puppies except for large breed puppies (woofers who are expected to weigh over 30 kilograms as an adult).
Large breed puppies have very specific requirements to allow them to grow healthily and to reduce the risk of developmental orthopaedic diseases.
The kangaroo recipe has a high energy content (from good fats & oils) which can lead to large breeds growing too quickly and increasing health risks. It also has higher calcium content than suggested for large breeds. If we think your dog might not be suitable for Scratch while it's growing, we'll prevent you from purchasing at checkout to ensure that no dog owner purchases without checking with their vet first.
If you have a large breed puppy, our Turkey recipe is for you.
What does 'All Life Stages' mean?
'All Life Stages' includes puppies, adults & seniors.
Is Scratch grain-free dog food OK for my breed?
This food is nutritionally complete and designed to be great for all breeds, in all stages, except for Large Breeds while they are puppies. If your dog is a puppy and you're unsure, see 'Is this OK for puppies'.
Why dry dog food over wet, raw or homemade?
Raw food diets are great as they have no processing, but it can be hard to get a completed and balanced diet from raw food alone. It also has other drawbacks like being fresh only for a few days, potential microorganisms such as e-coli, salmonella etc. Cooked protein is also easier to digest than raw.
Like dry dog food, chilled dog food has the kill step to eradicate pathogens. It has a short shelf life and often treated with a lot of preservatives to last the time from factory to home.
Wet dog food is also processed at a high temperature for a long period while sealed to ensure that all micro-organisms are killed. It generally tastes great but contains mostly water and a lot of gelling agents to make the gravy. A half-used can stinks out the home pretty quickly too!
Dry dog food in comparison is the most convenient, preserved by dehydration and receives a quick temperature kill-step to ensure all microorganisms are eliminated.
Can I mix kibble (dry dog food) with other foods?
Sure! Mixing different types of food is great, but try to be consistent.
Dogs digestive systems are not as flexible as ours so when you do mix, try to keep the mix more or less the same.
Is Scratch vet approved?
There's no such thing really. Sure, we could find a hot celebrity vet, pay them some cash and have a photoshoot as they run down a beach with a dog, but thats not how we roll.
Our recipes are developed with a Masters Degree qualified Animal Nutritionist. Scratch grain free dog food exceeds the standards of 'complete & balanced' pet food as defined by AAFCO.
What quality standard is it made too?
Scratch is made in Sydney and is annually audited by a 3rd party as complying to the Australian Standard for the Manufacturing and Marketing of Pet Food (AS 5812-2017).
How is Scratch fresher?
Subscription changes everything. We know how many subscribers we have, when their next deliveries are due and can time when we make and send them a fresh box.
Traditional store-bought dry dog food may be up to a year old before you buy it. Generally, it will have a best before date, but not a production date so it is hard to tell how old it is. Dog food is normally made in large runs, then sits in the manufacturer's warehouse waiting for a distributor or retailer to place an order.
It then sits in their warehouse waiting for a distributor or retailer to place an order. Finally it sits on the shelf at the retail store with hundreds of other varieties, waiting for the customer to come in and want that exact product.
How did you come up with the recipe?
We always kept in mind that Snoop (Doug's beagle) would be our first customer and wanted to make him the ultimate dog food.
We also knew that being online-only, we had more money to spend on quality ingredients than standard retail brands. We then worked with our manufacturer and an animal nutritionist to develop the best recipe we could.
We even had to twist their arm and source new high quality ingredients just for us. The things we really get passionate about are:
Sustainable single-source animal protein
Grain free, corn free, soy free food, with low starches
High protein but only through real ingredients – no concentrate
What is the kibble size?
Each piece of kibble is approximately 14mm in diameter and pretty flat.
What is the Kangaroo included?
28% of the Scratch recipe is Kangaroo Meal. This is Kangaroo meat, bones & organs that has the fat removed, then is dehydrated and milled into a powder. 5% of the recipe is Kangaroo digest. This is normally hidden in other manufacturer's products as 'gravy' or 'natural flavours'.
Our digest is Kangaroo meat and organs that are emulsified with a natural enzyme that breaks down the proteins into its amino acids. This makes it easier for dogs to digest and takes the flavour up to 11!
Some other premium foods have higher protein. Why is Scratch 28% protein?
We wanted to make a food with only one animal protein to make it as simple for dogs to process as possible, rather than filling it out with cheap proteins like poultry meal. Having one animal protein also helps to reduce the chance of allergies. We could not add any more kangaroo without unbalancing the food.
Higher protein doesn't necessarily mean best either. While high protein is a signal for potentially healthier food, not all proteins are equal.
How it Works
How long does a box of Scratch last?
Find out for your dog. We'll ask for each dogs weight, age and activity level and a few other little things.
That helps us estimate their calorie needs, how much Scratch to feed them and how long a box would last. If you have multiple dogs, you'll get a feeding guide unique to each of them, but they can eat the same box of food.
We'll base the frequency of a fresh box arriving based off that feeding plan, but you have full control to pause, cancel, speed up or slow down your subscription as needed.
What if my dog doesn't like it?
Just like us hoomans, some dogs don't like change.
It's also important to remember that sometimes the old food that they may be used to may have had lots of salt or other additives that made it taste great, even if it was not healthy. Be persistent and try not to be trained by your fur baby, but sometimes they might just not be into it.
If you've transitioned to Scratch and you're still unsure, we do offer a 100% money-back guarantee on your first order, no questions asked.
What if I run out or have too much?
We've made it super simple to pause, slow down or speed up your subscription with a click of a button so you're only getting food whenever you need it.
We also remind you 7 days ahead of sending more fresh food for your dogs.
How come your calculation is telling me to feed them different amounts to what I currently feed them?
Different ingredients produce different amounts of energy and some food is more dense than others, so one cup of two different dog foods can also have a big difference in energy availability.
Our feeding suggestions are usually pretty spot on based on whether your dog is in a healthy weight range, overweight, etc., but you can monitor your dogs weight and use common sense to feed more or less if your dogs weight changes unexpectedly.
How does it work with two or more dogs?
We calculate how much Scratch each dog should be fed per day based on each individual breed, age, weight and activity level.
You can feed them these separate amounts out of the same box, or we can send two boxes at once.
Can I get two boxes at a time: so one Kangaroo and one Turkey, Lamb & Beef?
Sure can – just ask us on live chat or by responding to any of our emails.
Delivery & Payment
Will you warn me when my card is to be charged?
Sure will. We will let you know 7 days in advance of when your next fresh box is due to ship and when it will be charged.
Each email contains a quick link to choose a new order date that you'd prefer or a button for us to send it ASAP if you're running low.
What if I'm not home to accept the delivery?
We currently use Australia Post, with no signature required. Your driver will leave the box in the safest place possible and leave a card if they think there's nowhere out of site.
We don't want you to have to try to get to your local post office during business hours, and then have to lug home a heavy box of food, so let us know if you'd prefer us to leave a note with orders if you have a preferred place for packages.
Is there a bag inside, or does that box leak?
There is a resealable bag inside the box. This is important to keep the food fresh, and store all the great smells inside for feeding time!
What areas do you ship too?
We ship to most places in Victoria, New South Wales, Queensland, Tasmania and South Australia.
Shipping is free for all Melbourne, Sydney & Brisbane customers and subsidized down to a small fee for everyone else. Head to checkout and enter your address to see exactly how much it is to get to your door.
One day (hopefully in 2019) we'll offer free shipping Australia-wide, but shipping dog food is expensive, so we've subsidized the cost as best we can for now. Watch this space.
Everything Else
Is the packaging recyclable?
We'd love to avoid plastic all together, but if moisture was to get into the box it could create mould and be a horrible health risk for your dog. We're looking at how we can invest in creating a non-plastic bag, but for now, all of our packaging is recyclable.
To get the best value out of recycling the bag, we suggest you put them in the redcycle.net.au bins available at most supermarkets and include instructions in every order email.
Can I buy Scratch in a pet store?
We have chosen not to sell in pet stores. We can get you a better food for the same price, speak to you about the needs of your dog and send fresher food based on your next order dates.
Do you do samples?
Sure do. Grab a sample here.
We are confident that your dog will love our kibble and that you'll see the benefits over time. You can also cancel at any time without restriction, and we offer a money-back guarantee on your first box if you're unsure after transitioning.
Are you members of the Pet Food Industry Association of Australia (PFIAA)?
30 years ago, most dogs lived in the backyard rather than on the bed. We now fully accept them into our families as little fur babies.
While pet food has improved, we don't think that regulation has kept up. In fact, it is still only a voluntary standard that exists, and that was written by the pet food industry itself.
While our manufacturing partners are PFIAA members and audited to the voluntary standard, we have currently chosen not to join. We especially believe that the standard does not demand the transparency that consumers expect and deserve. The flexibility that it allows marketers to deceive and promote is more appropriate for business generations ago, not now.
What's Included?
Fully Recyclable Re-sealable Bag
Scooper with your first order
Unique Transition & Feeding Guide (via email)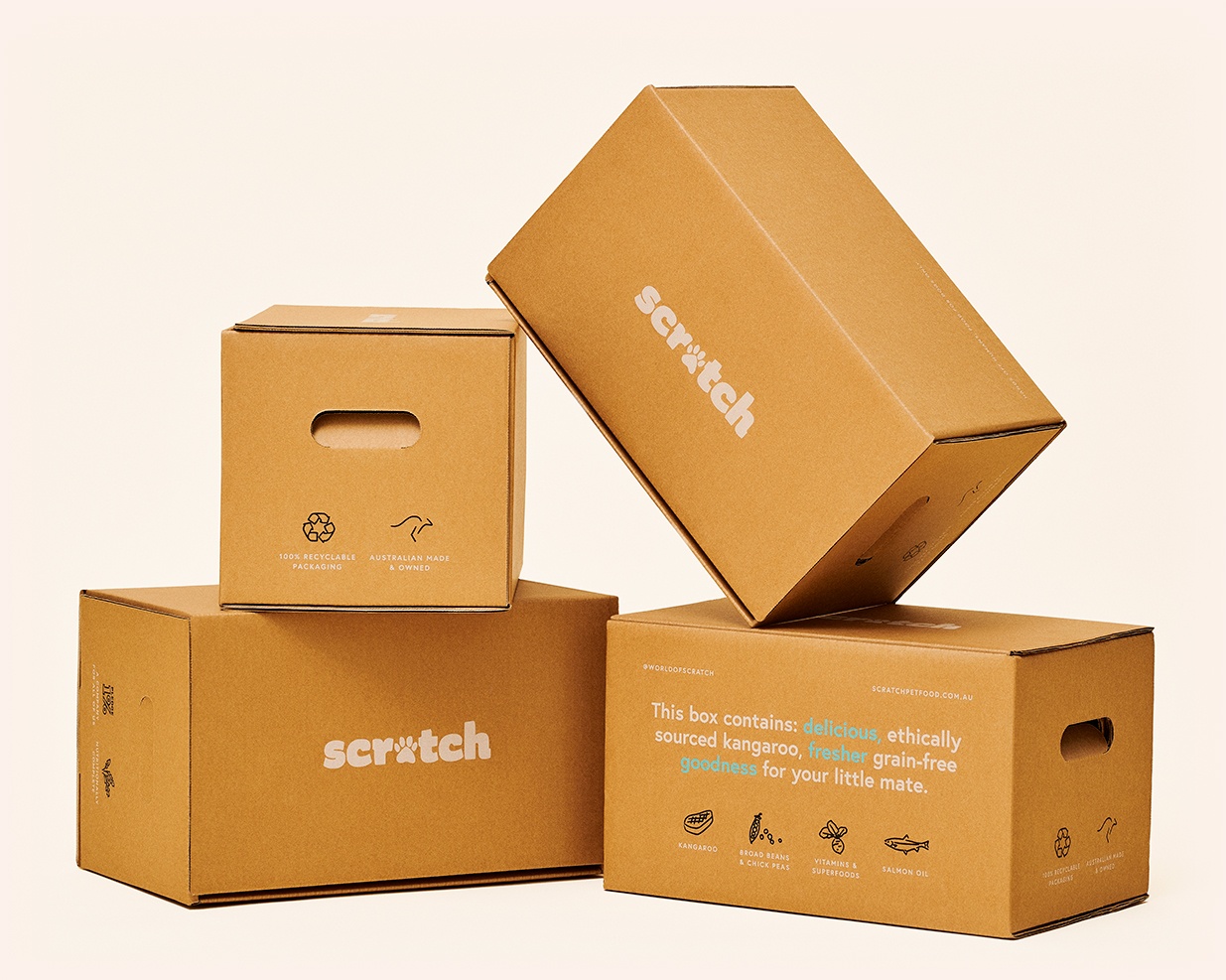 Feeding & Transition Guide
Our mates are used to the same meal, day in day out.
A sudden change can stress out their digestive system and get you diving for the poo bag.
Follow our transition guide to get them on to Scratch smoothly.
Days 1 & 2
75% Original
25% Scratch
Days 3 & 4
50% Original
50% Scratch
Days 5 & 6
25% Original
75% Scratch
This is dog food with a difference.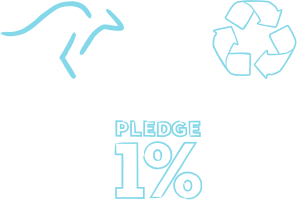 Australian through and through.
Sourced, made, and owned right here in Australia.
We mix this recipe in New South Wales using 84% locally-sourced ingredients.
Nutritionally Complete.
We fine-tuned our recipe with an animal nutritionist to make sure every ingredient was spot on and mighty delicious.
Made fresh on subscription.
We use data to know what your dog needs and when they need it. The subscription model means no more late night dashes to the supermarket. Just fresh dog food delivered to your door without any artificial preservatives.

Hover overTap any ingredient to see why we include it
The nitty gritty
You won't find generic names that could mean any part of an animal.
We only use real names for real ingredients and tell you exactly how much of it is in there.
Just hover over any ingredient below to understand why we use it. Doesn't have a percentage shown? That means it is included at 1% or below. Small, but important!
Meat
Kangaroo 21% (Roo Meal 16%, Meat & Liver Digest 5%)
Kangaroo is high-protein, lean, great for dogs with allergies and free from added hormones.
Veggies
Broad Beans 21%,
Great source of protein, fibre and vitamins & minerals. "I guess veggies are ok…. As long as it means it is Grain & Soy Free"
Chick Peas 21%,
Great source of protein, fibre and complex carbs.
Pea Protein 13%,
Packed full of balanced protein.
Potato Starch 13%,
Mmmm... Carbs! But gluten-free of course. This helps provide the optimum level of easily accessible energy when they need a burst of speed.
Beet Pulp,
Moderately fermentable fibre to support good gut health
Chicory,
Prebiotic that promotes beneficial gut bacteria
Alfalfa,
Protein, fibre and vitamins & minerals
Yucca Extract,
Plant extract to help reduce stool odour. "Me, trying to be nice to my Poo Slave"
Carrots,
Natural Source of Vitamin A & Beta Carotene. "Carrots help me see better right? All the better to see you with!"
Chia,
Omegas, fibre & B vitamins
Spinach,
Antioxidants, Vitamin K & Iron. "Soo much tastier than Kale"
Pumpkin,
Fibre, Vitamins & Potassium
Kelp,
Concentrated source of iodine, zinc, iron & copper
Turmeric
Source of Curcumin, a powerful antioxidant. "Like a daily Golden Latte. When is our next trip to Bryon, or Brunswick Street at least?"
Fats & Oils
Beef Fat (7%),
Great tasting source of energy. "Can I pleassse lick the bowl?"
Sunflower Oil (1.8%),
Excellent source of Omega 6 to help maintain healthy skin and glossy coat. "Shinny fur helps me get my strut on at the park"
Salmon Oil,
Tasmanian Salmon oil is a great source of Omega 3 EPA & DHA to support brain development in puppies.
Flaxseed Oil,
Included for its high percentage of Omega 3
Coconut Oil,
Concentrate source of energy that helps maintain healthy skin. "This is paleo right?"
DHA from Algae
Long Chain Omega 3s that helps brain development in puppies and healthy skin & coat
Vitamins & Minerals
Monosodium Phosphate,
Needed for healthy bone development.
Salt,
Salt is required to maintain the electrolyte balance, organs and nervous system.
DL Methionine & Taurine,
Extra amino acids for heart and eye health. Especially important for large breed dogs and breeds predisposed to some heart conditions.
Glucosamine Sulphate,
Popular amongst the oldies, Glucosamine is a naturally-occurring molecule that dogs are now getting their paws on. Used to treat and prevent joint disorders such as osteoarthritis, it's also been shown to have anti-inflammatory effects.
Hydrolised Collagen,
Collagen is a protein that connects dogs (and human) joints and tissue together like a spiderweb. We boost this recipe with small, easily-digestible collagen particles to strengthen damaged joint cartilage.
Chondroitin Sulphate,
More joint food. Chondroitin supports the development and maintenance of cartilage for legs that can keep up all sorts of mischief.
Zinc Sulphate Monohydrate,
Important for healthy skin and coat as well as immune system. "Having good skin = more belly rubs"
Essential Vitamins & Minerals
Concentrated supplement of vitamins and minerals to ensure that your woofer has everything he needs to thrive. Bet you can't say them in one breath! - Choline chloride, Calcium carbonate, Zinc sulphate, Vitamin E, Ferrous Sulphate, Vitamin C, Copper Sulphate, Vitamin B3 Niacin, Vitamin B5 D-Calpantothenate, Vitamin B2 Riboflavin, Vitamin A, Vitamin D, Vitamin B12 Cyanocobalamin, Vitamin B1 Thiamine, Selenium, Manganous oxide, Vitamin B6, Pyridoxine, Potassium Iodide, Vitamin B9 Folic Acid.
Natural Antioxidants
Mixed Tocopherols and Rosemary Extract
Vitamin E and other natural mixed Tocopherols combine with Rosemary Extract to make sure everything stays fresh.
Many brands change recipes regularly without notifying customers or changing labels, but that's not how we roll.
View our changelog of any changes that we've ever made to our recipe.
Guaranteed Analysis
| | |
| --- | --- |
| Protein (Min) | 28% |
| Fat (Min) | 15% |
| Sodium | 0.56% |
| Calcium | 2.2% |
| Phosphorus | 1.5% |
| Total Carbohydrates(calc) | 36% |
| Metabolisable Energy | 368Kcal/100g |
If they don't devour Scratch grain-free goodness after two weeks transitioning, we'll give you a full refund.
Compare our Kibble
Grain-free

Turkey, Lamb & Beef
$69 per box
Grain-free

Kangaroo
$79 per box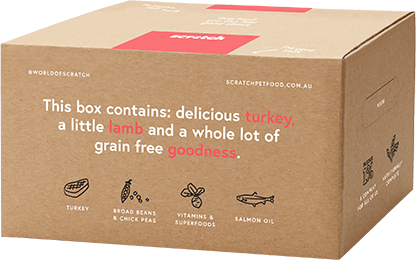 Both Recipes are:
Packed full of whole, Australian vegetables
Protein rich with local, sustainably-sourced meat
Cooked with four healthy oils for healthy skin & coat
Nutritionally (and emotionally) complete
Naturally high in fibre to fix gut problems
Suitable for all life stages, from puppies through to silver foxes
Are great for allergies & intolerances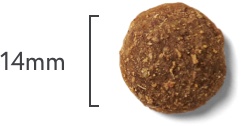 Large breed puppy friendly!
Multiple animal proteins for diverse nutrients
Differences: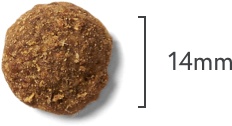 Not for large breed puppies
Single animal protein - amazing for dogs with allergies or on elimination diets
Sustainably-sourced Kangaroo
Added supplements for joint health (great for older dogs)